Service Portfolio
• Installation and Modification
• Field Inspection and Analysis
• Maintenance and Repair
• Site Supervision and Training
• ASME and FRPI Stamping
• Shop and Field Hydro Testing
• Acoustic Emissions (AE) Testing
• Turnkey Services
• Plant Site Surveys
• Field Dimensions
• Layout and Design
• Materials Engineering
• Spec Review and Writing
• Stress Analysis and FEA
• Pipe and Ductwork Support
• Professional Engineering
• Equipment Manufacturing
An-Cor is a full service company, supporting your projects from the cradle to the grave. An-Cor customers have come to rely not only on the performance of our equipment, but also on the breadth and depth of services provided that help assure their success on every project.
An-Cor products are carefully engineered, rolling up an in depth detailed review of the application, previous case histories, insight surrounding conditions anticipated on the construction site during installation as well as fit up with related or interconnected equipment. This intimate understanding of the demands placed on the products An-Cor provides for you is the cornerstone of the reliability you experience with our equipment.
Your in service equipment and products coming in from An-Cor for startup get attention that results in the lowest owning and operating costs afforded for your facility. These field services performed on your site are done safely, on schedule and meet or exceed our customer's performance expectations. Operating under customer shutdown and construction site conditions is an ordinary undertaking for An-Cor.
An-Cor
customer, engineering, production and field service people are an extension of your team and a group you can depend on 24/7. Our team is first in class, with the first ASME RTP-1 accreditation and FRPI certification as symbols of An-Cor's commitment. Together we can overcome the most challenging situations and capitalize on every opportunity.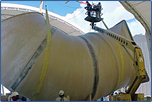 On-Site Manufacturing Services
Sizeable eqipment that is too large to ship from our plant is manufactured and assembled on-site.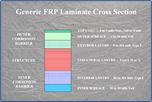 Laminate Design Services
Laminate design and composition play a significant role in the performance of your FRP equipment.